35th Chablis Wine Contest
The Domaine obtained several awards during the 2021 Chablis Wine Contest:
Petit Chablis 2019: Silver Medal
Chablis 2019: Gold Medal
Chablis 1er Cru Côte de Cuissy 2019: Nominated
HAPPY NEW YEAR 2021
After a trying year for everyone, the Domaine is closed from December 22, 2020 to January 3, 2021. Happy New Year everyone!
Important Information (RE) CONTAINMENT
The Domaine remains open during confinement. You can come and buy my wines by checking box 2 of the certificate, by appointment only. However, no tasting is allowed on site (which is absurd, I agree).
You can also place your orders either by phone or on our website.

DRIVE collection at the Domaine (by appointment) and deliveries to your home (in France only).
The wines of Domaine de la Tour awarded
Our Bourgogne Aligoté 2018 received a gold medal at the last Burgondias Wine Contest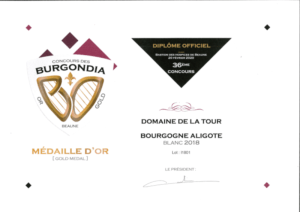 2020′

P

rogram

of Exhibitions and

F

airs
Here is the program* of exhibitions and fairs during which you can taste and buy our wines in 2020:
Du 22 au 24 février : Salon Vins et Gastronomie au Havre (76)
Du 25 février au 1er mars: Salon de l'Agriculture à Paris (75)
Les 14 et 15 mars : Salon Vins & Saveurs à Mantes-la-Jolie (78)
Les 21 et 22 mars : Salon Gourmand à Mayenne (53)
Du 3 au 5 avril : Le Temps des Mets à Dunkerque (59)
Les 25 et 26 avril : Salon des Vins à St Memmie (51)
Le 17 mai : Vide-Greniers à Verdonnet (21)
Le 26 juillet : Vide-Greniers à Fontaines-en-Duesmois (21)
Août : Vide-Greniers à Fontaines-les-Sèches (21)
Les 24 et 25 octobre : Fête des Vins de Chablis – Fête en Caves au Domaine à Lignorelles (89)
Du 23 au 26 octobre : Salon du Vin et de la Bière à Dunkerque (59) CANCELED
Du 6 au 8 novembre : Salon Gourmand à Rouen (76) CANCELED
Les 14 et 15 novembre : Salon Vins & Saveurs à Les Mazures (08) CANCELED
Du 20 au 22 novembre : Salon Vins & Saveurs à Chalon Sur Saône (71) CANCELED    
Les 19 et 20 décembre : Marché de Noël de Saint Pierre les Nemours (77)
* Indicative Program subject to change without notice.