The vines set the tempo of the work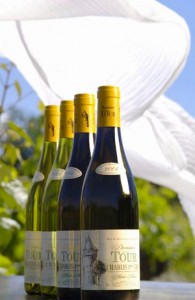 Out of respect for the environment, since 2003 we have abandoned the use of chemical herbicides and adopted instead the system known as low-input cultivation : lutte raisonnée .
Low-input cultivation is a set of procedures for limiting the use of chemical additives in order to conserve the integrity of the soil.
Soil-working by traditional methods (root-pruning, harrowing, ploughing…) forces the vines to push their roots deep into the earth and so to extract the full typicity of the Chablis district's soils.
The Chablis vineyards – a gift of the Jurassic
The Chablis district is one of the best-known and most prestigious wine-growing areas in the world. It produces elegant and highly-bred wines made from the Chardonnay grape, the variety which gives birth to the finest wines of Burgundy. Chablis, the most northerly of Burgundy's wine-growing districts and a near neighbour of Champagne, lies along the valley of the River Serein. The vineyards of the Domaine de la Tour face south with the vines planted in rows set at 90′ to the axis of the crest..
The influence of the Kimmeridgian
The soils of the Chablis district are sedimentary in nature, laid down during the Upper Jurassic era some 180 million years ago. Their composition is clay-limestone but their special quality derives from the underlying rock, a layer of Kimmeridgian limestone (named after a district in England where limestone is quarried). Its presence can be detected by the small fossil shells found mixed in the soil.
All the Premier and Grand Cru vineyards lie within areas where the limestone comes to the surface. This fact, combined with a maximum of incident sunshine, confers on the Chardonnay the mineral aromas which are so characteristic of the appellation.